In-year Admissions for pupils from Reception to Year 6
Hermitage Primary is its own Admissions Authority, which means you can apply directly to us for places in Nursery and Years 1 to 6.
We work closely with Hillingdon Admissions Team who will contact us with any applicants who have specified Hermitage as a preferred choice.
Please call the office on 01895 234871 or email admissions@hermitageprimary.org.uk to apply for a space or for further information.
Nursery Admissions
Hermitage manages its own admissions for Nursery.
Children are admitted into Nursery in the term/half term after their third birthday, subject to the availability of places. Parents may register their child from birth.
Applications can be made at any time in the school year and parents will be notified by the school of offers of places at the earliest opportunity. Parents may express a preference for a morning (8.30-11.30am) or afternoon (12.15-3.15pm) place.
If parents are unsuccessful in obtaining a nursery place, they can be put on a waiting list and informed when a place is available.
Parents must register their child separately for nursery and primary school - securing a place at nursery does not guarantee a place in Reception.
Reception 2024
Even if your child is at Hermitage Nursery, you must apply for a place in Reception through Hillingdon Council. The deadline for applications for September 2024 is 15th January 2024.
For a guide on how to apply through Hillingdon Council, please click here
Please see below our Open Day dates for parents with children starting Reception in September 2024.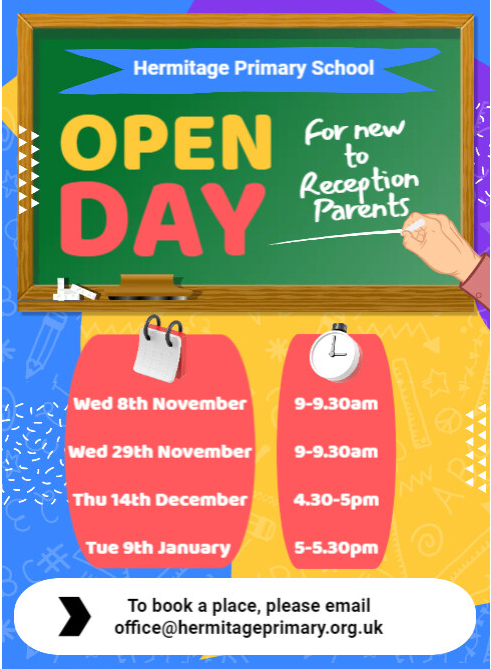 If you have any questions, please contact the school office at: admissions@hermitageprimary.org.uk or call 01895 234871.